Gas Filling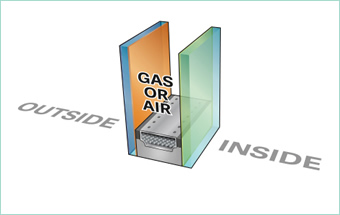 Types of cavity filling
Gas filling the cavity inside sealed units gives added thermal insulation. Argon is the most common gas used, with Krypton and other rare gases used for certain types of specialist glazing.
Argon
More commonly used due to cost. It is 1% of the atmosphere and is readily available from several suppliers in gas or liquid form. It is twice as dense as air and thus slows the heat transfer across the cavity of the sealed unit, giving extra thermal insulation.
Argon gas from the on-site Argon storage tanks is transferred into the IGU cavity during processing using either the 'on-line' gas press facilities or 'off-line' gas filler where the IGU's are shaped or have external decorative features. 16mm & 20mm cavities maximise the effects Argon gas filling.
Krypton
Used less due to performance and cost. It is a 1000th of one percent of the atmosphere – 0.0001%. In a 20mm cavity it has no improvement on Argon. It costs up to 1000 times more also. It is denser than Argon and thus slows the heat transfer further but this is cavity dependent. Krypton works best in narrow cavities.
This is useful when the thickness of sealed units needs to be kept to a minimum for specific uses such as heritage timber frames, narrow metal frames etc. For example, if the maximum cavity size is 12mm, Krypton will achieve a lower u-value than Argon and thus meet insulation levels that could not be met with Argon in the frames/glazing dimensions available.